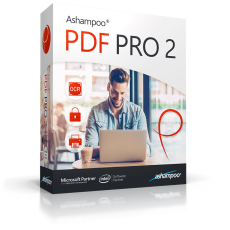 The universal PDF editor – create, edit and convert with ease
Use it on up to 3 PCs in your household
| | |
| --- | --- |
| | If you use Ashampoo® PDF Pro 2 at home, you can run it on up to 3 PCs! A single license is enough to provide your entire family with a powerful office suite! If you use it comercially though, it's one license per installation. |
Create and edit interactive forms
Compare two PDFs side by side
New snapshot function for perfect PDF screenshots
Edit open images in place with external image editor
Legally valid Bates numbering
Find and replace colors throughout documents
Split up PDFs into smaller documents with custom number of pages
Supports PDF 1.4 for backwards compatibility
New and simplified text formatting dialog
New window for quick access to letter, line and paragraph settings
Replace document fonts for easier file exchange with other PDF programs
More meaningful toolbar icons
Single unified editing mode instead of "View", "Comment" and "Edit"
New menu structure for unmatched ease of use
New toolbar with the most recently used page operations
New auto-repair feature
Create interactive forms
Ashampoo PDF Pro is not only ideal to fill out forms but also to create and edit your own. It takes only a few clicks to add interactive elements, like selection lists, checkboxes or input fields, to your PDF form. These forms can then easily be filled out by anyone using a standard PDF reader.
Compare PDFs
The side-by-side view is genuine highlight of Ashampoo PDF Pro and allows you to quickly compare two PDF documents with synchronized scrolling. This feature is especially handy during translations or while browsing through document revisions of the same file. A single click will reveal even the smallest of changes!
Create snapshots
Would you like to capture parts of your document as image files? You got it! The new screenshot tool can capture any portion of your document quickly and easily with custom formats, resolutions and color depths, including alpha channel support. Simply capture the parts that really matter to you!
Handy bates numbering
Need to apply unique numbers and/or date/time-marks to several PDFs for further processing, e.g. a batch of invoices? The new bates numbering feature makes it possible: Process any number of files or entire folders and add numbers, texts, e.g. headers and footers, or date stamps with incredible ease.
Seamless image editing through external applications
This may sound familiar: You need to edit an image embedded into a PDF with an external image editor. Usually, you would have to export the image, open it in the external editor, save the changes and then reimport it into the PDF. With Ashampoo PDF Pro , a single click opens the image in your preferred editor and, once you hit save, Ashampoo PDF Pro will then ask you whether you wish to apply the changes to the PDF document.
Find and replace colors
Sometimes, you need to replace colors through the entire document, e.g. to adapt its design to company or project requirements. The new find and replace feature makes it easy: Just select the color to be replaced, followed by the replacement and Ashampoo PDF will do the rest. Save time and effort with the new features in Ashampoo PDF Pro!
Brand-new user interface
If you've used Ashampoo PDF Pro before, you'll notice a major change right after program launch: The user interface has been completely revamped and toolbar icons were redesigned to be more meaningful. On top, the PDF program now offers touch-friendly icons, if needed – perfect for use with touchscreen or high-resolution displays!
Convert documents into Word or other formats
Ashampoo PDF Pro features a mature OCR engine that converts scanned characters into computer-editable text. Naturally, the program also features seamless file exchanges with Microsoft Word.
Find and replace in seconds
Ashampoo PDF Pro's find and replace goes far beyond what you will find in other PDF editors. Not only can you replace text at the click of a button but also hyperlinks, fonts and colors. It's the fastest and easiest way to adjust the design of your document and you can even apply this feature across multiple files.
Comment, edit and highlight
Ashampoo PDF Pro is the comfortable way to add comments to your PDFs, highlight important passages or add drawings for clarification. Built-in stamps like "Approved!" or "Confidential!" further help you mark up your documents.
Create PDFs with ease
Ashampoo PDF Pro creates high-quality PDFs from all print-enabled Windows programs. Simply select "Print" in your application of choice and pick "Ashampoo PDF" as printer. If required, Ashampoo PDF Pro can downscale images automatically, e.g. for online publication.
Versatile change tracking and spell checking
With Ashampoo PDF Pro, you can modify, add, delete and format text paragraph or page-based. If required, the program can highlight recent changes thanks to the built-in change tracker to help you with document revisions. The integrated spell checker helps you avoid typos and auto-hyphenation ensures your texts look decent.
Document protection with 128-bit AES encryption
Thanks to strong AES-encryption, your PDFs are protected against unauthorized and unwanted actions such as opening, editing, printing or text extraction. You decide what recipients can and can't do with your files! You can also permanently and irrevocably blacken sensitive information.
Fill out and print forms
Not only does Ashampoo PDF allow you to fill out interactive forms but it also supports the more common forms that were created as PDF documents as used by various government agencies. Save time and fill out your forms on your PC instead of printing and filling them out the old-fashioned way.
Working with graphics and drawings is easy with Ashampoo PDF. Insert, edit, move and crop objects as needed. You can even use them as watermarks to protect your intellectual property or clone them for easy reuse.
Format, revise and recompose with ease
Revising documents is a breeze with Ashampoo PDF. Rearrange and delete or crop and rotate individual pages as you see fit. You can even insert pages from other PDF documents or combine multiple documents into a single file with incredible ease.
The universal PDF editor – create, edit and convert with ease
Looking for a free PDF editor? Look no further. You can use Ashampoo PDF Pro 2 free of charge for 10 days, plus 20 if you complete the free registration afterwards! Here's your chance to get an entire month of PDF viewing, editing, converting and creating for free!