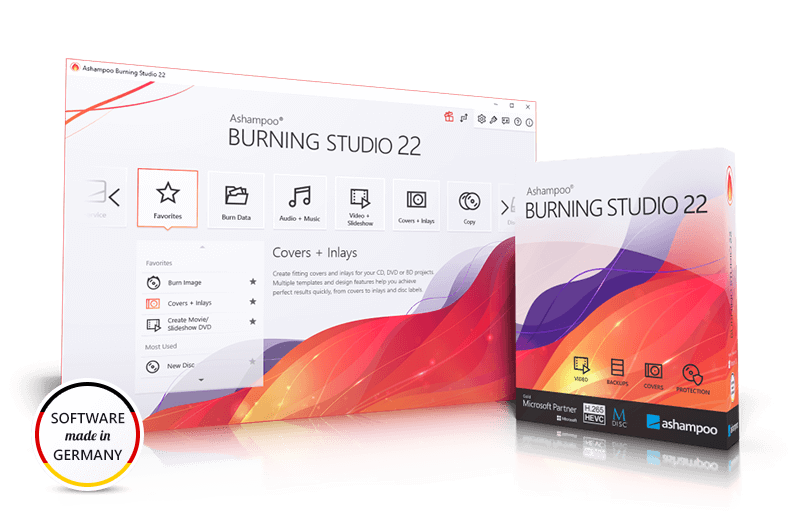 Burn, copy and backup data with unbeatable ease of use
 Modern H.265 decoder for stunning video quality
 Create and burn audio discs complete with covers
Our best burning suite and the perfect choice to burn, backup and convert your files
Ashampoo® Burning Studio 22 has been improved in those areas where you notice it the most! With the state-of-the-art H.265 decoder, you'll achieve perfect multimedia projects, while audio CD ripping yields even better results, thanks to the new search engine. Already know your favorite features? Use the new shortcut function to create desktop shortcuts for instant feature access! Not only does Burning Studio 22 feature a new elegant design but it's also seen major improvements under the hood: Disc burning, file backups and conversions have been massively accelerated and optimized. You'll see and feel the difference! Get the brand new version of our best burning application!
Benefits at a glance
Modern H.265 decoder for stunning video quality
Rip music more comfortable with covers, metadata and more
Lightning fast feature access with quick-start shortcuts
Numerous improvements for disc burning, file backups and conversions
New elegant user interface
More than 200 new car radios supported
Brilliant new templates for disc artwork and Blu-ray menus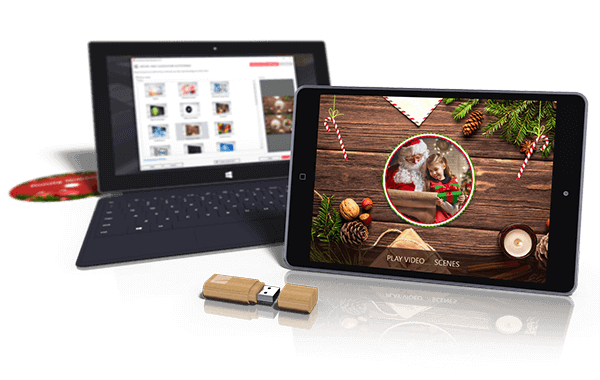 Ready for H.265–HEVC ready!
Codecs are the lifeblood of multimedia projects–and Ashampoo® Burning Studio 22 ships with a new star: H.265 (also called HEVC). This codec offers the same quality but 50% higher data compression rates compared to its predecessor! Take advantage of modern encoders and process your H.265 footage, e.g. shot with a digital camera, cellphone or action cam, effortlessly!
Product maintenance that matters
Information technology is subject to constant change, including operating systems, file formats and hardware. For this reason, we've updated and overhauled the foundations of Ashampoo® Burning Studio 22. Burning and conversion procedures have been meticulously examined, reviewed and tweaked to perfection. Over 200 car radio profiles have also been added along with multiple multimedia enhancements. And don't forget the visuals: This is the best looking Burning Studio yet!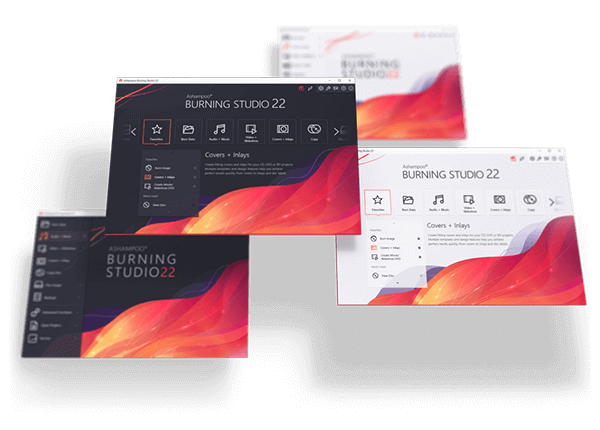 Lightning fast feature access
Burning Studio has gained a lot of fans thanks to its clear menu structure and quick-access options. But things can go even faster: Pick your favorite module and create a desktop shortcut for instant access. Every single module is supported! Navigate to where you need to be in just seconds–and with a single click!
Create your own movies and slideshows with ease
With Burning Studio 22, there's no limit to what you can do! Cut your movies and add intros and outros in just a few clicks. Misaligned videos can now be instantly rotated. Subtitles help you deliver your message and ready-made themes or custom graphics provide the much-coveted polish. Wow your friends and family with stunning slideshows with background music and turn your precious memories into a visual masterpiece. The new H.265 decoder provides even greater flexibility when it comes to creating high-quality projects. Family celebration, job event or vacation, with this burning program, brilliant results are guaranteed!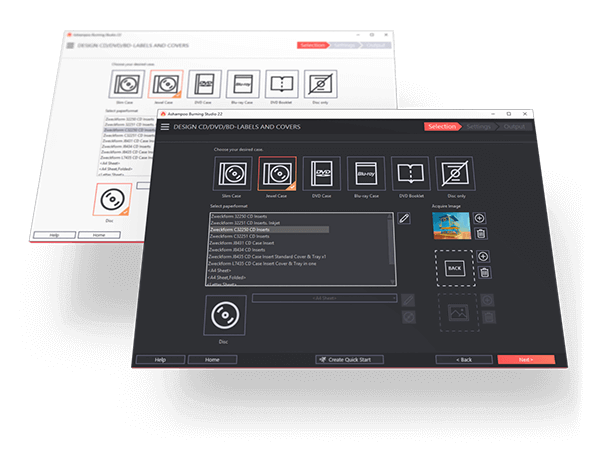 Rip music more comfortable with covers, metadata and more
Disc ripping has always been super-comfortable and easy with Burning Studio. The program recognizes CD contents automatically and retrieves suitable metadata and cover artwork automatically for you. Burning Studio 22 has seen a complete overhaul of this technology for better speed and exact matches, from covers, to artists, title names and more. It's the fastest and most convenient ripping feature of any Burning Studio yet!